Book Direct with Mill Pond Realty for the Best Rate!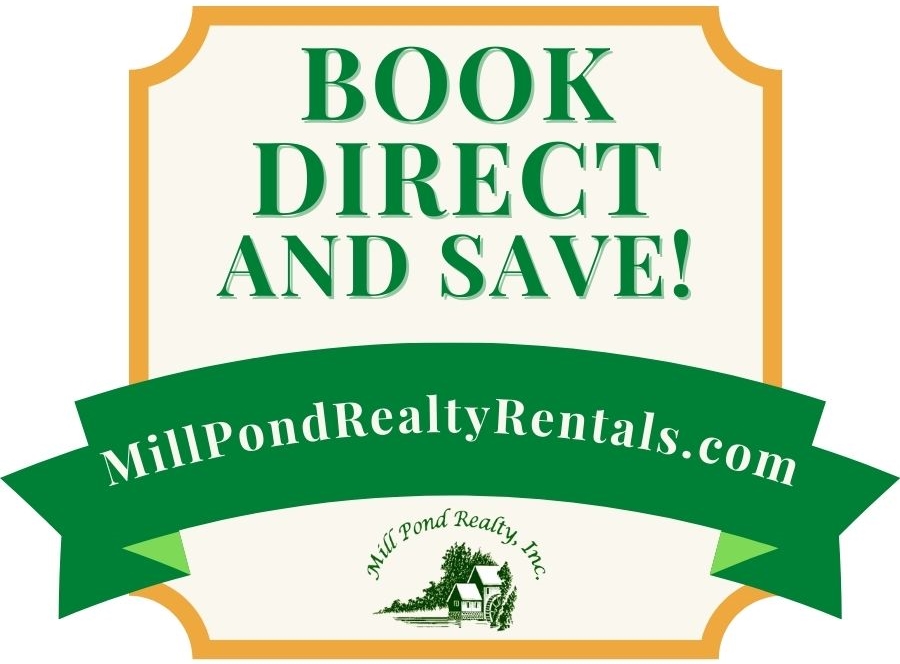 Book Direct
There are lots of ways to reserve a vacation rental property for your family and friends. You can make a reservation wtih Online Travel Agencies (OTAs) like Airbnb, VRBO, and TripAdvisor. When you use one of these sites, we want you to be aware that they charge extra fees that range from 5-20%.

We want you to save money on your vacation.

When you book directly through Mill Pond Realty, you can do just that. You will get the best rate on our properties when you make your reservation on our website or by calling 269-857-1477.

The benefits of booking your southwest Michigan lakeshore getaway direct with Mill Pond Realty include avoiding extra fees, the opportunity to get last minute deals, and the peace-of-mind knowing all of your questions were answered by an experienced, local reservation specialist.

Peace-of-Mind Cancellation Options
When you book direct with Mill Pond Realty, you'll enjoy flexible options for changes and cancellations. You can reschedule your trip or cancel it and receive a 100% credit to use anytime in the future OR receive a refund (minus the cancellation fee) at least 30 days prior to arrival. These options are only available when you book direct.

Search now or give us a call 269-857-1477! #bookdirect
Area Information
Wondering What's open?

For an up-to-date list of current business hours Click Here
Area Beaches
Oval Beach: Saugatuck's famous Lake Michigan beach has been awarded for its beautiful shoreline. Open daily 9am - 10pm. Parking is $10/car/day or $50 for a season pass. Free entry from Labor Day until Memorial Day weekend. Concessions and restrooms available in the summer. Located at Perryman Stret and Oval Beach Drive, Saugatuck.
Douglas Beach: Free parking, but it's very limited. 3099 Lakeshore Drive, Douglas
Saugatuck Dunes State Park: Wonderful hiking and beach access. Perfect during all four seasons. A state park permit or a daily fee is required in summer. 6575 138th Avenue, Holland.
Pier Cove Beach: A river runs from the land out to the lake along this beach which makes it perfect for little ones who are afraid of the waves. Free parking, but it's very limited.
Westside County Park: Picnic area, playground, grills, and beach access. Free parking. 2152 Lakeshore Drive, Fennville.
Parking and Transportation
Parking in Saugatuck during the summer can be a challenge. The local Interurban demand response bus is a great option for transportation anywhere within Saugatuck Douglas. Only $1.00 for adults and $0.50 for children under 12, seniors over 62, and persons with disabilities. To reserve a ride call 269-857-1418.
The Interurban offers a free shuttle service between Saugatuck High School (401 Elizabeth Street) and downtown Saugatuck. 11am - 5pm Saturdays and Sundays June through Labor Day. The wheelchair accessible shuttle runs in a loop continuously every 15 minutes.