Featured Vacation Rental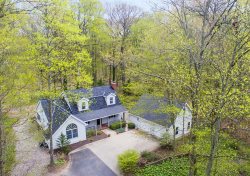 Lake Time: Sprawling Home with Nearby Lake Michigan Access
Bayview Condominiums
Bayview Condominimiums are Located 'On The Hill' just outside of downtown Saugatuck. Within walking distance to all that Saugatuck has to offer, you can forget about having to struggle with parking and walk to your entertainment destinations.
Douglas Downtown
Overflowing with art galleries, eateries, boutiques, and an inviting coffee house, the quaint town of Douglas is sure to please. The charm of the historic buildings and relaxation of the peaceful parks provide an enjoyable backdrop for Douglas activities. Your Douglas vacation rental is located within easy walking distance to everything Douglas has to offer.
Fennville
Located 7 miles southeast of Saugatuck/Douglas is the small town of Fennville. The historic architecture, nationally recognized restaurants, and quaint shops make Fennville what it is today. For the wine lover, Fenn Valley Winery offers daily wine tastings and many events throughout the year. If you have a sweet tooth like us, you'll love Crane's Pie Pantry. Fennville is bursting with that small town American vibe!
Glenn
Halfway between Saugatuck and South Haven, you will find the Charming town of Glenn. Known as the Pancake Town for the blizzard that hit in 1937 leaving 200 motorists stranded and hungry. With groceries running low, the town survived on pancakes for breakfast, lunch and dinner. Today, Glenn offers fantastic restaurants, shops, u-pick farms, art galleries, and beaches. Glenn is worth the visit!
Goshorn Lake
Goshorn Lake is a beautiful no wake lake that is divided from Lake Michigan by only a sand dune. These fully functional modern log cabins will sleep up to 8 people each and are within walking distance to Goshorn Lake and only a quick drive to downtown Saugatuck or the Lake Michigan shoreline.
Holland
From our award-winning downtown to our beautiful lakefront, you'll fall in love with Holland's small town charm and big city amenities... Dine along the waterfront or at a cozy café. Climb to the top of a sand dune or cross-country ski through miles of groomed trails. Shop for a pair of wooden shoes or delight in our outdoor Kerstmarkt. Tour award-winning brewery production facilities, or just stop in for a pint. No matter what your interests, you won't be disappointed...
Lake Allegan
Lake Allegan is a wonderful lake just outside the community of Allegan. This lake is great for swimming, fishing, and slow boating - pontoons, kayaks, canoes, etc. A true beauty, you will love sitting out and watching life on the lake.
Lake Michigan Association/Public Beach Access
Lake Michigan is the largest freshwater lake in the United States and the shoreline is known as the third coast of the USA. Your Walk to Lake Michigan vacation home will be located within reasonable walking distance to either an association beach or a public beach. Once at the beach, you are your loved ones are sure to make many memories while soaking up the sunshine, splashing in the clear waters, and squishing your toes in the singing sands!
Lake Michigan Waterfront
Lake Michigan is the largest freshwater lake in the United States and the shoreline is known as the third coast of the USA. Your Lake Michigan Waterfront vacation home has private access to the sugar sand beach and wonderful water views. Due to the high bluff in our area, many, but not all, of these homes have stairs down to the beach. Endless days of soaking up the sunshine, splashing in the clear waters, and squishing the sand between your toes awaits you and your loved ones!
Miner Lake
Miner Lake is a 325 acre inland lake located in Allegan, Michigan. With an average depth of 24 feet, this lake is great for all water sports.
Partial Week Properties
The following properties allow partial week reservations in advance for the peak season summer months. Properties either have a 2 of 3 night minimum which is noted on their property page. If you are looking for a 1 night stay, please contact a vacation rental specialist.
RiverWalk Suites
The owner of this wonderful historic home has lovingly transformed a B&B into a three-suite vacation rental. You have the option of renting 1, 2, or all 3 of the suites to accommodate your group. If you would like to rent all three suites, please contact a vacation rental specialist to make one reservation instead of three.
Saugatuck Downtown
Your Saugatuck vacation rental is located within easy walking distance of all Saugatuck attractions and amenities. Enjoy a meal at one of the many fine or casual dining establishments, take in the latest play at Mason Street Warehouse, shop for local grown produce at the farmers market, cool off with a treat from one of the many ice cream parlors, sit in the park to people watch, or stroll along the waterfront boardwalk. There is something for everyone in Saugatuck!
Saugatuck Harbor Resort
Saugatuck Harbor condos are all beautifully decorated and designed. Each unit offers hardwood floors, granite counter tops, and master suites with views of the pool and the Saugatuck Harbor. Located on the edge of downtown to provide you with privacy.
Saugatuck Harbor/Kalamazoo River
Our beautiful harbor in Saugatuck/Douglas is where all the action is during the summer months. Between boat parades, fireworks, and jet skis, there is always something going on in the harbor. The water flows from the harbor along the Kalamazoo River and out into Lake Michigan. Your Saugatuck Harbor vacation rental is nestled on the Saugatuck Harbor or Kalamazoo River with partial or full views of the water.
Silver Lake
Silver Lake, located in Saugatuck, is the perfect place to spend your vacation. Whether it be tubing, boating, water skiing, canoeing, swimming, or just tanning on the beach, you're sure to have fun in this lake! Without large waves or an undertow, this all sports lake is perfect for kids and adults alike. With a small or flat bottom boat, you can go from Silver Lake, along the Kalamazoo River, and out into Lake Michigan.
Singapore Harbor Condominiums
Singapore Harbor Condominiums is situated on the west side of the Saugatuck Harbor. Enjoy waterfront views, an association swimming pool, and top end finishes inside the condos. Only 1 mile from Douglas Beach for Lake Michigan access.
South Haven
South Haven is a bustling beach community about 20 minutes south of Saugatuck and just over 2 hours from Chicago. Properties in this category are in the general South Haven area, but not necessarily downtown. South Haven offers a lively marina, various beaches, Sherman's Ice Cream, and an abundance of shops and restaurants.
Winter Rental Properties
The following properties are available with a 6-8 month lease in the off season, October until May 15th. For information regarding pricing and availability, and to access an application, please visit our winter rentals page here, Winter Rentals
Amenity Search
Don't see an amenity you think should go here? Let us know and we'll add it!